The stunning business proposal helps you to reach the goal systematically. Step by step needs to be run down there. The great start of your business comes from the awesome business proposal templates. However, will you work for it? How many times you shave to spend on it?
Searching, browsing, and designing take more time than you think. The dateline is coming and you should pick the one you desire. You cannot take randomly because it influences your business image. Therefore, you need to find the right business proposal template and the one that truly show your business power.
UI Creative will help you to find the best business proposal templates. Take your time to enjoy our templates show. They will cut your time to designing. In addition, our templates could boost your selling up to 300%. Your business performance raises well. Grab one of them now!
Editable in Adobe Indesign application. Replace the image with your own. Be creative as you can. Explore the most suitable font for it. Business proposal temlates is helping you to be the expert. You will not lose the professional layout even you made many changes on it. If you do not want to get complicated, try to use the free fonts from UI product. It is fascinating to give the result to your customers.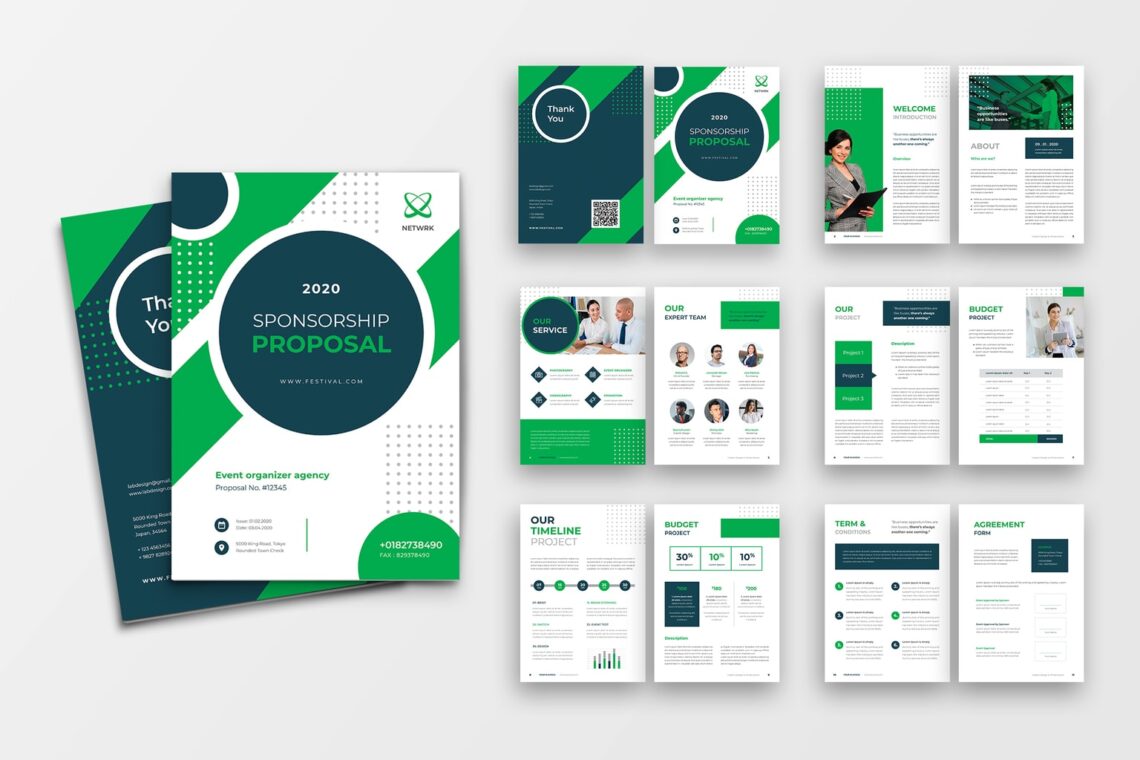 If you want to get the soft proposal templates, this one is perfect. Give the direct information to your client with 12 custom pages. Edit anything until you find it is perfect for your business. What you have done would interest the sponsors. Are you ready to get a bomb of sponsorship?
Also Read : 10 Essential Tips of a Winning Proposal
It is tiring and wasting much time to make Proposal Project Template. You do not need to put your company image, but you also have to arrange everything as the cover. Making the attracting cover influences your company performance. How to make it in twelve pages? It must be a joke. Get it from a professional touch for your professional result.
This proposal business templates is suitable for your food business. Place your menu, take the recommendation dishes on it. It must be looked delicious. Who do not want to know your business more after they see your proposal?
This proposal templates look formal.  The color is straight with its line. If you wonder how to build the great the great network building, choose this one. Describe in detail about your business . It is free of font. Make it like slides on Powerpoint and everyone will focus on your proposal.
Also Read : Best 25 Business Proposal Templates
This is a great template to show how cheer the festivals will be. You may have a festival project and tell everyone your best service in the event. Place the date and hours. Do not miss the venue.
If you are looking for modern business templates, this is the option. It is suitable for any business. The black and white feature make it such a classic look. How will you relate it in amateur design technique? Get and use it as your desire.
This cool proposal templates could describe the detail of your event. Get the soft layout and place your image on it. You will get the free font, but you may change it as your desire. A perfect combination of the cool blue and elegant silver.
Also Read : You Want to Get Stunning Proposal Design Just Follow These Proposal Design Tips!
Do you see how purple describe your company profile more? It is truly eye catching and you could start to be confident with your company. The pages in this template would be interesting to read and read more.
Where will you see the refresh business template? Green style is a perfect match to gain a connection. Do not waste your time in front of a computer to make a stunning design anymore. 
Are you ready for the next project? Tell everyone if you can handle everything. The clear description should be described on the business templates. This proposal business templates is professional in style. Modern and has a great quality performance. It is suitable for personal and company.
Finance templates is in CMYK format color. You will get twelve custom pages. Input your recapitulation here. Make a graphic to inform your finance business without hesitating in designing. 
Also Read : 10 Useful Tips Proposal Design that Will Get More Potensial Clients
This professional style of design could boost your company image. Touch up the pages and input your professional company image. Designing the great front and back cover will not be complicated. Smart layers and organize them to have a chic look of your proposal business.
If you love red because it shows the brave, Modeling project is the appropriate one. Editing the pages without make another design. This stunning template  is ready to fill your worries. The model looks beautiful and so your business proposal.
It helps you to look expert. The detail layers will persuade the reader to know more. Change the font and replace your image here. Let us see how  smart it would be.List your company service and it is time to saving more. Your proposal lseems elegant.
Also Read : 10 Important Things for Your Proposal Design
You need to try this template for your project design companies. It has the timeline and space to introduce your company. Select the page you want to re-edit and tell everyone about your project description. Print it on glossy paper or magazine paper. It will be fancy.
Are you looking for the smart layer templates? The Digital Concept Proposal templates are ready for you. Use the free font from DaFont or Google Font and your proposal will look perfect. When you feel difficult then try to place the image and everything, try to get the UI Creative service.
Welcome to the suitable templates for your business. Professional Photography templates suit to any business. See the detail of each page here. Everyone could scan the barcode at the back of your proposal. They could reach you easily. This is what you learn from digital era. 
The artistic template but looks elegant is this one. You may see the bar, graphic, and list in it without you have to place it. It is better for you to find the professional fonts and place them. Your company will be re-touch by anyone. They interest to know more about your business after seeing the gorgeous template here. Even when you change the page, it does not mean you lose the layout quality. 
Also Read : 10 Tips How To Write Winning Sales Proposal
The soft color of template looks attractive for some people. If you need to focus on the content of the proposal, try to use Web Design Proposal Templates. It has organized layers, so it will not make you confuse when reading. Even the template has lots of letters, they are placed on the right spot. 
This is one of the great Business Proposal Design Templates.The color is eye catching and suitable for any business. Digging more about your special product could be describe here. Place the images of your products and their descriptions. Now, your business proposal has done. 
Creative Branding templates is suitable to show your product knowledge and power. Tell the detail of your business strength. You just need to place your product image and print the templates in great paper quality. Everyone will keep your business proposal and look forward for your new item. The strong color could remind the reader easily.
Finance Budgeting proposal templates will help you to arrange the budget of the project. The smart layer is suitable for DaFont or Google Font. Select the one that eye catching, so reader could notice the important information easily. You do not need to take much time in front of your computer. Your company image will raise its performance. 
This is one of the great templates for finance. You will get the conceptual layout and related to finance. Readers would read the content easily because it has the neat layouts. Mark the important note on it. All you need is input the data and budget here. It is as a peace of cake!
Digital Asset Service templates is what you need to look professional. You do not need to place fancy font because you have to make it looks formal. This is the simplest thing to do because you only need the proposal templates and print. Even the highlight is already prepared on the templates. 
Which one of those Proposal Business Templates suit you more? Let UI Creative helps you to make a right decision. Do not wonder about the dateline and take a cup of a coffee now!