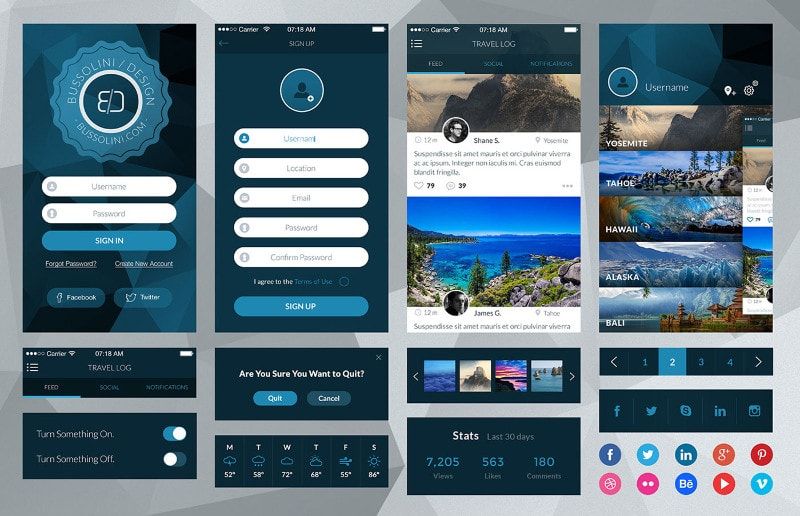 Now, we can show you how important iOS UI Kit for your mobile development, from UI/UX concept until the user process.
Holiday makes peoples life more happy and fresh again. A great holiday need a great plan. To plan a holiday, we will need an iOS apps or something which can estimate the cost, the hotel reservations, the tickets, etc.
In this modern day, people love gadget more often. This could be an opportunity for you to create applications related to hospitality and traveling, interested? We will show you some material UI kit that can inspiring your hotel and travel app developments.
CheckInn is all in one hotel design inspirations. It's because this beautiful UI Kit has 20 nice screens based on workflow in mobile hotel booking application.
Quickbook is simple and trendy material UI kit for iOS. This amazing Quickbook was created by simplicity concept, if you looking for fast, and simple hotel booking apps, you must choose Quickbook.
Life Trip is nice flatty UI for mobile apps. Fully creative and modern, that is Life Trip. This material UI Kit bundled in PSD files, so you can customize it freely.
Travelbook is a UI kit for Hotel booking and hotel discovery app for iOS platform.
Like the slogan, booking and smart room in one app, so you can manage your room and your hotel service in your touch. ihospitality created by many strategic user workflows. If you want to develop complex apps for hotel, you must try this.
Let's Go is travel UI kit for help traveler making a great traveling experience. With this UI kit you can manage your own travel easily.
This nice UI Kit was named ZenRooms. It is one of nice accomodation booking with beautiful designs powered by Rocket Internet.
Fravel is material UI Kit for planning trip apps. From accomodation until tickets. This UI kit has a nice concept, of of that is Fravel Asisstant, it can help you to manage your travel, communicative like a friend.
AirportChatter is UI kit for flight booking apps. It was so nice, because it's include a delay informations.
The Pulse is material UI kit that offer a nice trip experiences. With The Pulse, you can discover unexpected spots, find nearest spot, save it, and keep track of where you have been.
Hello City is good inspirations for mobile travel apps. This UI kit has some categories like hotel, restaurant, museum, pubs, etc.
Find an amazing tours globally just by tapping your finger. Then sort it by date, price, location, etc.
A clean UI for flight booking apps, this Airways iOS App created based on US travel company for dealing sample in online ticket booking.
Travel now with Trave UI Kit, this great UI Kit was packed with more than 30 nice concept screen layouts. All is in modern based on modern UI/UX.
Fusion travel is UI kit for travel agency to make traveling more comfortable.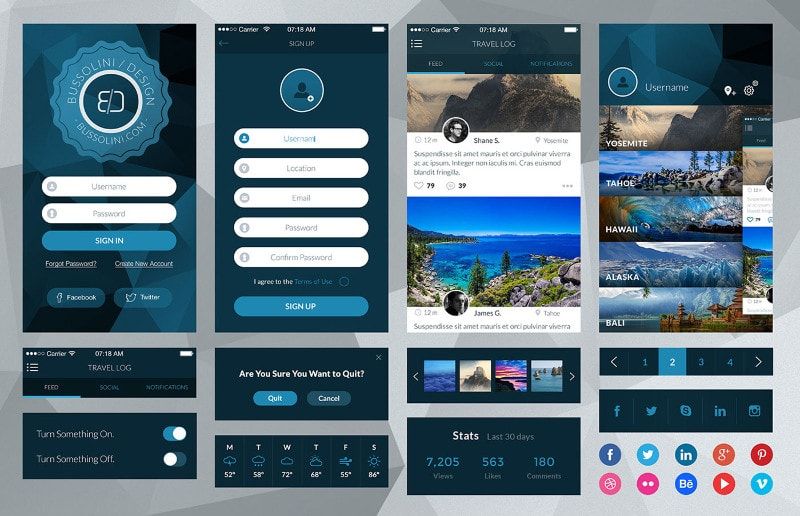 A nice UI kit for iOS platform, all resolutions and elements is scalable, compatible for iOS 8 or above.
Simple concept for flight booking and boarding pass for  mobile apps.
Redesign Egyptair mobile app
A simple UI inspirations for flight tickets searching.
BeeUI is a material UI Kit for modern purpose travel apps. It's include complete elements of an apps, like signup, login, leftside menu, explore, etc. All was packed in PSD.
A nice starter UI kit which include all screen layouts in .PSD files, divide by iPhone resolutions ; iPhone 6+, iPhone 6, and iPhone 5
traveLover is UI kit which can be the next travel diary or travel blogging apps.
Mobile Travel Application with codename Cheap Carribean. Can this be the latest breakthrough in travel apps? We will never know.
Travelio or Material Travel App UI has 17 editable and organized PSD files (include Google Material Design).
Wonderful concept for flight process from boarding until check in or check delay status. Recommended for who will develop flight apps.
This Flight App UI is just redesign from skyscanner iOS apps.
Reise is modern iOS UI kit for modern people. If you want to searching UI kit which provide much enough modern user experience, this UI kit is for you.
BOOK NOW is booking template for hotel and bus booking apps. Android Studio ready, so, you can import it to your android project easily.
Triplan is UI Kit for social travel mobile apps which has offline mode, maps, wonderful place, important tips, etc.
Discovr material UI Kit was designed for presentation purpose. But this UI Kit also ready to use to make your next travel apps. It's incluce 21 great screen inside.
If you want to develop taxi booking apps, you must try this Destination UI Kit. It has  10 screens inside.
TRIVA is material UI kit for developing taxi booking apps. It has finest design, colour, and all important taxi booking feature.
A nice android freebie UI kit from Nine Hertz, ready for developing travel apps in Android based.
Traveling isn't always by driving a car, right? So, Beijing designer create this amazing UI from that idea. With on the road concept, this UI can get people attentions.
A nice UI and UX design inside this TRAVEL UP UI Kit, if you need simple design in your development, try this UI Kit.
This travel and stay UI kit was inspired by Airbnb, maybe this design will be the next iOS Airbnb.
With this Busmaps UI Kit, we will know more about bus route, bus location, and plan trip, a nice UI.
UI kit for departing flight in Israel airport.
A nice travel app. Made with High Quality UI.
Interesting UI, has a pinned map in each traveling spot. Tripd make travelers explore easier.
RoundTrip, a unique trip apps. Organized by circle activity in it's UI. Use your fingers to pinch and zoom to know more or less detail, like zooming in and zooming out in google maps.
A clear UI to purchasing flight ticket, this Trip detail UI Kit is recommended for anyone who looking for clear UI.
Simple bright colour, Some screen UI is look so clean and high class hotel booking apps.
Hotel UI provide 3 important processes in traveling like hotel reservation, flight avability checking, and ticket purchasing.