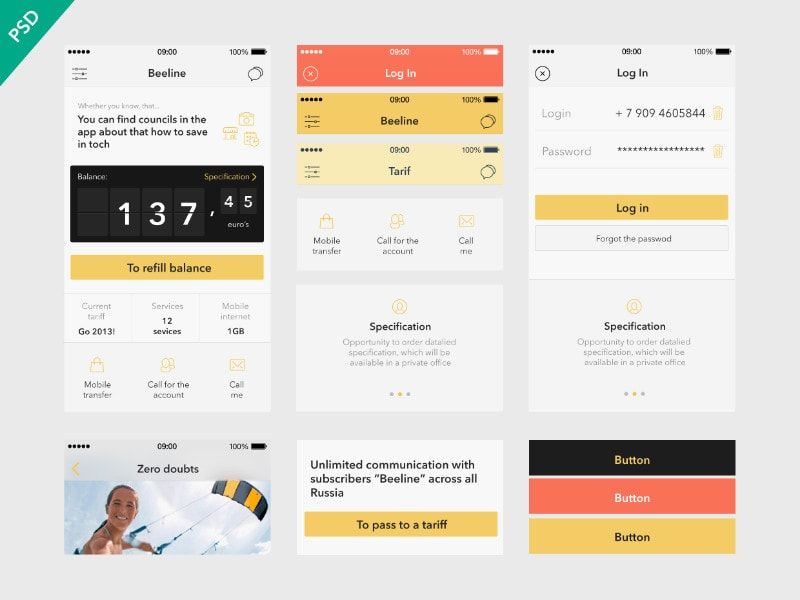 Inspired by metro style in new looks Windows 8, and iOS 7, flat UI designs was favored by almost everyone in the world today. It's like a new model in the fashion world. Focusing on color and typography, flat designs brings many changes in the world of modern design. Especially in all matters relating to software and mobile devices. The simplicity and the elegant of flat designs have also changed the user experience pattern to be more clear (in the design concept).
Flat designs is still a trend to date. Besides, flat designs is also a design model that focuses on functional, not only on it's beauty.
In this post we have some collections, best 25 flat designs to bold your apps. We select the best 25 flat designs which made by high experience designer. So, we hope that can be the inspiration of your mobile application design.
This Flat UI designs also known as Fresh App UI kit. Green color is the main color. If you looking for a bold fresh app, you must try this. This flat UI designs is easily customizable, support retina display, and 100% smart objects.
This is an Flat UI Designs was made by Ali Rahmoun for his potential client. This flat UI designs can be use for automating home, and give a control almost all feature of a house.
This flat UI kit also known as Flat UI design. A main concept of this flat UI designs are clean, modern, and creative. This design has 4 .psd files with high resolutions (300 dpi), support retina display and fully editable and customizable. Editing this template will be so easy.
Like it's name, B.Easy was make for anybody who looking for an easy interface or screens. This clean UI designs ready to use in iPhone App. The idea comes from B.Easy restaurant in Cologne. The designer of this nice flat UI designs is Christian Pfeiffer.
uiGo Colors is a high-quality Flat UI designs for mobile apps, made by Rodrigo Santino. With all of it's elements and features, you can design and develop your apps easily.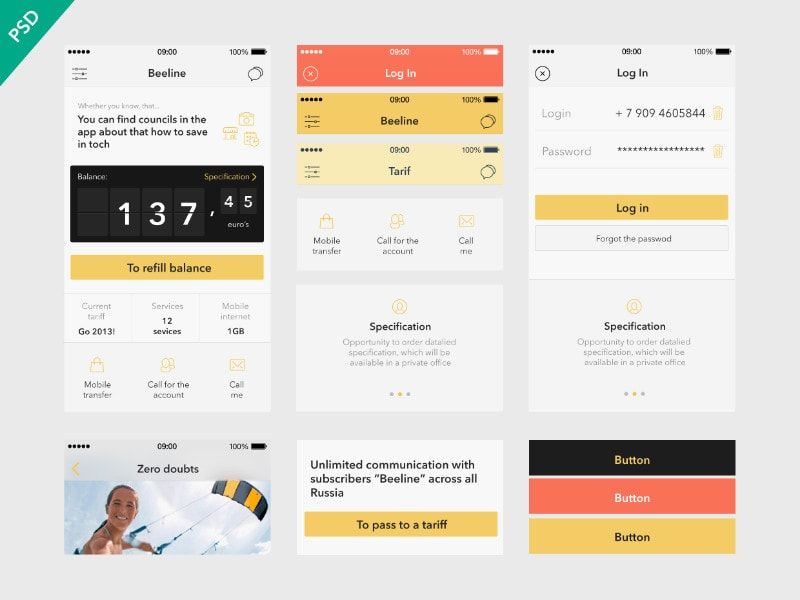 Flat design inside this Beeline App. High quality in all elements. Ready to use in your design.
Forecast your surfing activity with Tide now. Tide is an application to forecast sea wave in detail, so the surfer can predict their future surfing activity. This beautiful design is using flat UI designs. This app was create by Martin Spurway.
This is a flat UI designs by Douglas Hughmanick, is ready to transform your app idea into a real apps that puts the world cooking recipes just in your hand. With nice recipe search feature and a easy to use shopping list.
A simple smart home applications designed by Eyal Zuri.
A redesign idea for Tinder (Dating App)
If you searching for a modern and transparent elements, try this Flat Mobile UI/UX Concept.
A clear slide menu make this flat design has a natural clean concept by Dave Keller.
A flat UI designs for a simple social thumb.
Ready to use for any business. This transparent and UI designs is free to use in a small organisation to a firm or big company.
Another mail app design for iOS. Was design by Michael. This flat UI designs inspired by a conventional iOS mail apps.
A redesign Időkép (Weather app). Pretty flat UI designs by Attila Szabó.
Also knows as mobile theme flat UI designs because it was use standard for flat UI designs. An inspiring gorgeous development by it's modern interface. Ready to use for e-Commerce, news and magazine apps or social apps.
A redesign iPhone app (Discovery Channel) with flat UI designs touch by Enes Daniş.
ideabox iOS App by Ilker Şener. An app with a lot of features to manage your idea.
A bold flat UI designs by Kimy Alvarez and Lawdi. Ready for use in e-Commerce or social app which has profile section.
A UI designs for mobile e-Commerce medicine. A simple interface to choose your health needs.
A nice flat UI designs for reporting by Arkadiusz Platek.
Another simple UI designs by Plat4M.
This flat UI designs by Karol Ortyl for Setting screen is mandatory for a simple to complex app. You can easily to add or edit new slide in the right or left section.
A super modern UI designs by Artem Tolstykh. Bold in it's usability features replace old concept application in the same genre (to download free ringtones).
A simple activity feed. Was create by Vasjen Katro.