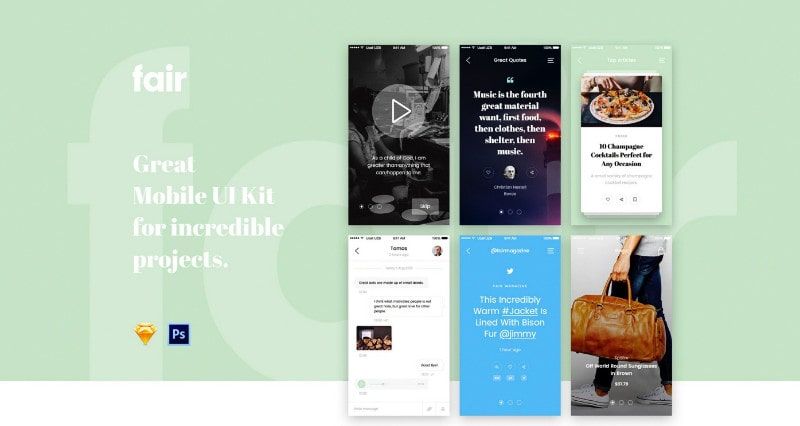 Have you even heard about UI kit? UI kit is an ready to use design elements to build user interface easily. If you an app designer, we sure that you even ask to yourself about your user interface (UI). A questions like "Is this concept is so clear for the users?" "I think this UI design isn't enough to fulfill the usability" , or "How to get many users with this UI?". Don't worry, it's normal. In this post we will help you to build your own good UI by choose these UI kit in your app development.
It's important to consider, because today, all is going mobile, and mobile device or gadget have a nice position in human life, not just a thing for communication. It's also like a special needs in a social intercourse. Mobile device has many type, one of them is smartphone. You know, smartphone today is often like a drugs. Some people declare that they can't life without their smarphone in their pocket. The magic behind it is mobile user interface (UI) which can hypnotize their users. You must carefully plan your UI because your UI can affect your UX (user experience).
Routes UI kit is premium iOS UI with more than 100+ screens. All elements ready in PSD and Sketch files.
Ventas is inspiring UI kit for travel related apps. This amazing UI kit has 6 nice customizable screens provided by symu.co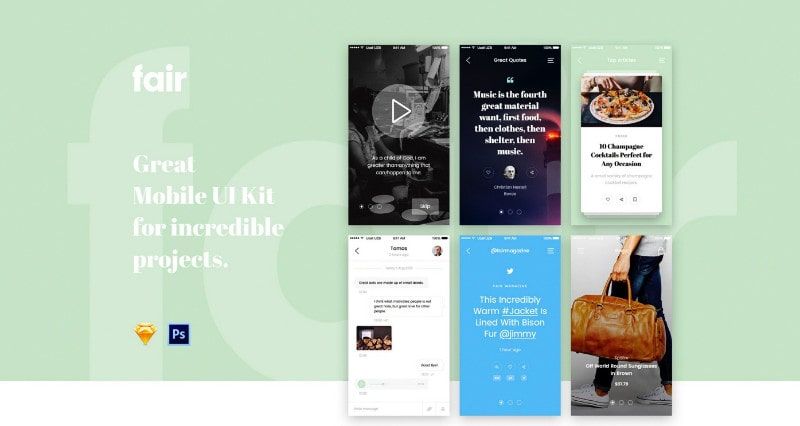 A bright colour and clean concept is powers of this Fair UI kit. Ready to design your incredible projects easily with this UI kit.
Was create by Bradley Bussolini. This sales app UI kit ready to rock your e-Commerce to the high level.
Traveling and holidays inspiring this beautiful Lets Go UI. This UI is ready for iOS development.
An elegant and modern UI kit from frantissek.com. It's cool shapes make a bold sensation in modern era.
A nice and beautiful minimal chat UI kit. Powered by InVision, make yours free.
A chat dashboard UI for medium size device like tablet. It's shapes and elements makes it looks super modern UI.
Bundled in PSD format to make your travel app development easier. This Life Trip UI loaded with nice flat elements.
If you need an UI for Hotel related app for your iOS app which has a sharp colors and fonts, you must try this Travelbook UI.
Manage your mobile app for hospitality service just in your touch with this ihospitality UI.
A trendy for e-Commerce and social apps. This Trend UI kit is ready for use in iOS, all nice elements was design by Oleg Bolshakov.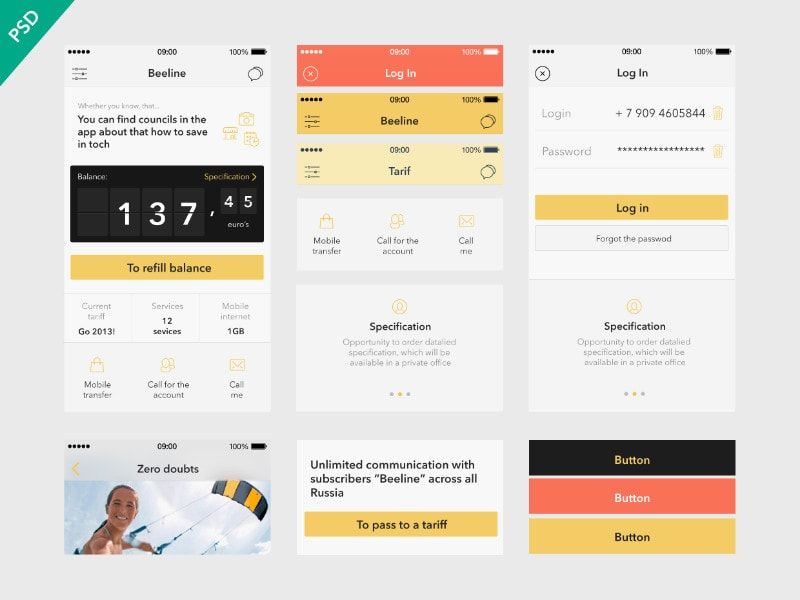 Nice flatty and clear UI elements for iOS platform in Photoshop bundle for free. Designed by Anton Skugarov.
Sandeep Kasundra is a man behind this beautiful UI kit. Like it's name, Clean & Modern iOS UI will make your UI design clean and very modern.
A nice UI kit by Blaz Robar. The concept of clear in travel related iOS app was too strong in this UI kit.
A nice colors and flat UI design are include in this Mobile Material UI Screens. Ready to rock your app with clear visual usability. A bright colors and modern layouts make your UI looks perfect for a young user.

Small UI kit from Freecreative. Bundled in PSD format. Ready to use in your iOS development.
A fresh sensations is the main concept of Wyvern UI kit. Create your e-Commerce prototype or real mobile apps in iOS platform easily.
This Spool UI kit can help you to design amazing UI with clear concept. Bundled in PSD with 6 stunning screens.
This Free Ecommerce UI is a new flat UI to make your e-Commerce stands out with it's bright colors and nice shapes.
More than 200 great components by Baianat, so you can customize your UI easily. This Stark UI also ready in Arabic version.
An amazing UI for iOS. Elegance comes with very modern elements, ready to develop your high class app with this UI.
A nice elements like google fonts, vector shapes, and organized elements already in Azure UI kit.
This is a redesign version of Facebook app in Android L.
This is redesign version of Livejournal iOS App.
Nest is UI kit to make a various app designs, also known as multi purpose UI Kit system. It has so many elements and screen which can covers your functionalities.
Amazing pixel and elements for Apple Watch version 2.0 (38mm & 42mm) development. This Apple Watch concept GUI has more than 40 screens and compatible with photoshop and skecth.
Clear concept comes in this iPhone 6 UI. Ready in development for any iOS apps.
Redesign instagram Android app.
This amazing Flat Mobile App UI designs suits for anyone who looking for food related apps.
An e-Commerce clean concept bundled in Materia UI.
A good UI design from Mạnh Nguyễn Tiến. Ready for your music app development.
Android UI provided by Donart Selimi with more than 5 screens.
Designs beautifully with stunning screens and great pixels. This Phoenix UI is ready for your various development type.
This is just a concept app but all pixels is fantastic for make elegant concept in an app.
Checkout screen for your iOS app. All pixels was design by Simeon K.
This UI create to an app which can monitor your bandwidth, complex features display in simple one. So nice.