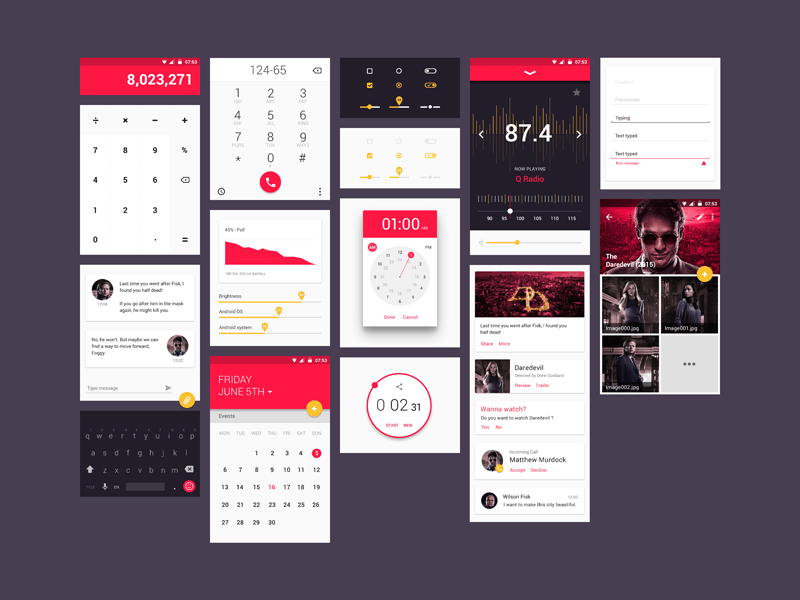 Free Mobile UI kits are now increasingly in demand by designers and developers. Because now the world of advanced application development very rapidly. Whatever the business field is now slowly turning into mobile and IT related.
Are you a designer or developer hunting design for the application you are developing? You are in the right place. We'll show you the potentially increasing free UI kit in 2017. Don't go anywhere, read this post to the end and determine which design best suits your development.
A nice informative UX with soft shapes and bright colors makes this Soccer App UI looks so elegant and modern.
This WRNC comes with flat design. An elegant and clear shapes make it strong enough in modern weather app concept.
A smart chat app, same with the name. This design covers some unique features in one app, like emoticon, location, photos, calls, etc.
Pickles is a concept for a modern restaurant or food related app. This nice free mobile UI was design by SK (Sandeep Kasundra).
Clean and innovative. This is uncommon To-do app included in this mobile UI kit, you must try it.

Create your stunning Android apps with this UI kit. This bright color will bring a happiness in your development.
Use this Fitness App UI to your health or training related concept. This UI has so many feature like Step and Calorie counter, Fitness Goals, Profile, Signup, etc.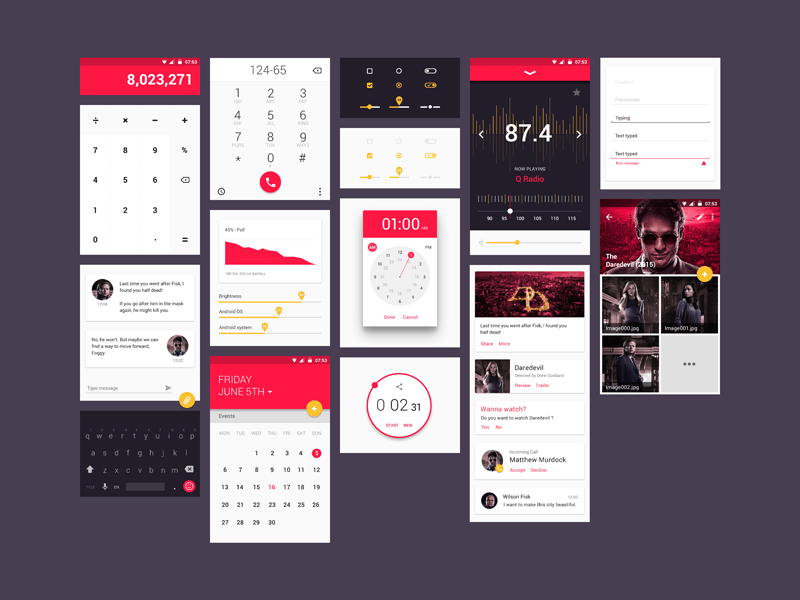 A high-quality template with red dominate Android material design for making an app or widget.
Design your app or your prototype faster with this UI kit. With this Ace UI kit, design interface in your iOS development is so easy.
Free social app UI template, ready to use and customize, you can make your own social media easily.
This is a app template for Bitcoin exchange application.
Nice looking e-Commerce UI design. You can make your own mobile online store concept faster.
Amazing innovation in social media. Cafegrapp bring coffee and social in one app. This UI was design by Ömer Korkmaz.
iPhone oriented with flat design and nice shapes. The gradient is makes it elements has a strong character and sense. Ready for retina display with 5 beautiful screens.
This UI provide flight information. This app was design to get flight booking data and make online checking. Flybi has a good design for good usability in flight app.
Clear UI for chatting app. Easy to interract with your friends. You can consider this clear concept in this chat apps.
New idea to expand Google App. With this Google App UI you can search loacation, Restuarant, weather, Hotel etc. This concept bundled in PSD.
This music UI is using bold clean concept, nice.
An amazing profile display to show your informations, can be used in various app.
This Login UI kit suits for anyone who looking for clear and good shapes and elements.
Bold flatty concept inside this Flat Mobile App makes this design looks modern. All components are in vector and editable.
A rare freebie. This UI kit concept is completely match for female teenage users.
Simple cooking app with pixel perfect in 4 screens, all is optimize screens and support for retina display.
A nice concept for app design which has a portfolio section.
A free PSD UI kit. So, you can edit as you want. Try this POSH UI kit, it can be useful UI elements in your e-Commerce design or development.
Grab your own modern weather app with this UI kit.
This UI kit like it's name, modern and clean. So, this UI kit is has an amazing clean concept with modern touch.
Travel related UI kit, that's Route. With this UI, you can design your own travel app.
A huge freebies elements are ready to use in this UI. You can edit Phoenix UI in your Photoshop or Sketch.
Manage your album with photo managements. And Snap Sack is one of design template for photo managements.